Food Vacuum Sealer Machine
If you want to preserve food for a longer time or you are crazy about bulk food purchases and find yourself struggling to divide it up and keep its fresh taste at the same time, This vacuum sealer machine absolutely exceeds your expectations.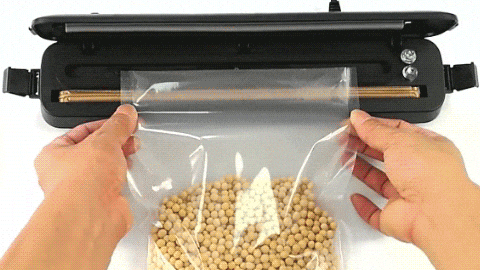 A vacuum sealer is a great helper for your kitchen. You will find that it is fabulous for preserving food in the fridge and keeping food fresh longer with the machine. Supported 2-in-1 function combined with vacuum and sealing according to your usage needs. Stylish and sleek design making It a vacuum sealer a lot easier to store or even keep on the counter. 
Main Features
【Money & Food Saver】- By buying your food in bulk and properly storing it, you can save a substantial amount of money and also leave a smaller carbon footprint.
【Fridge and Freezer Space Saver】-By vacuum sealing, you will also create extra space in your fridge. Say goodbye to cluttered and unorganized refrigerators and freezers. Easily identify different foods with the clear vacuum seal bags and save space by removing air for even easier storage.
【Save Your Money】- vacuum sealing system keeps food fresh up to 7 times Longer and allows you to save up to $2700 per year.
【Two Sealing Modes】- Based on your different types of food preservation with One-Key Operation. Press "vacuum & seal" for a automatic vacuum speed of 5-8 seconds or press "Seal Only" button for 3 seconds until the red light turns green
【Multifunctional Food Vacuum Sealer】- The automatic vacuum sealer can keep the freshness of fruits, nuts, meat, sweets, and vegetables, preventing foods from getting freezer burned, molded, and spoiled, reduces spoilage and food waste.
【Automatic Vacuum Air Sealing System】- Designed with fully automatic vacuum sealing system, bottom case is waterproof, outer air vent, and low-noise feature together make it safe and comfortable for using.
Usage:
Vacuum seal operation-
1. Put the food in the bag. Organize the open end of the bag to remove dust and smooth out folds or folds.

2. Place the open end of the bag in the vacuum chamber below the air inlet. Do not load excess food.

3. Close the lid, then press the sides of the lid to lock the buckle.

4. Press the "vacuum/seal" button, the green LED will flash and enter the state of automatic vacuum pumping.

5. When the LED light turns red, enter the automatic sealing state.

6. When the LED turns green again, the vacuum sealing process is completed.

7. Open the vacuum release valve to release the vacuum pressure in the machine.

8. Open the upper cover and take out the bag, if necessary, refrigerate or freeze the sealed food bag.
Specifications
Material: ABS
Rated frequency: 50/60HZ
Rated voltage: 100-220V
Rated power: 90W
Colour: Black
Plug specifications: US
Weight: 400g
Size: 36x5x8cm
Package includes
Food Vacuum Sealer Machine x 1